WHAT'S STREAMING: CLASSICAL
March 3-27, 2012
Wednesday, March 3 at 6:00 p.m. ET
Pianist Jonathan Biss joins violinist Mark Steinberg & cellist Marcy Rosen to play Schubert in recital live-streamed by the Philadelphia Chamber Music Society
Three months after performing together in a special Beethoven 250 program, pianist Jonathan Biss, violinist Mark Steinberg, and cellist Marcy Rosen reunite to focus on the music of Schubert. At the core of this program is Schubert's late masterpiece, the E-flat Major Piano Trio, which Schubert's biographer, Brian Newbold describes as "a state of the art product of Schubert at the height of his powers, running the gamut of expression from joyful affirmation to rapt meditation." This performance is a live-stream from the American Philosophical Society's Benjamin Franklin Hall presented by the Philadelphia Chamber Music Society. Live-stream events are broadcast in real time and available with a pay-what-you-wish donation. The video will remain available for 72 hours after the performance. WHERE TO REGISTER / WATCH: pcmsconcerts.org
PROGRAM:
Schubert: Violin Sonata in A Minor, D. 385
Schubert: Piano Trio in E-flat Major, D. 929
Thursday, March 4
San Francisco Performances "Front Row Premium" presents Jonathan Biss performing Beethoven Piano Sonatas
San Francisco Performances' "Front Row Premium" is a series of four performances curated specifically for the online platform. Membership is free with email sign-up and members will be sent a link to view the concert. The March 4 release presents pianist Jonathan Biss performing three Beethoven piano sonatas. WHERE TO REGISTER / WATCH: https://sfperformances.org
Program:
BEETHOVEN: Sonata in E-flat Major, Op. 7
BEETHOVEN: Sonata in F-sharp Major, Op. 78, a Therese
BEETHOVEN: Sonata in A-flat Major, Op. 110
Before you watch, listen to Jonathan Biss's UNQUIET: My Life with Beethoven on Audible
In his recently released Audible Original, Jonathan Biss examines the interplay between his lifelong passion for the music of Beethoven and his own personal struggles with anxiety.
Excerpt from UNQUIET: My Life with Beethoven:
"…the timing of this pandemic held particular significance for me. Having allowed myself nearly a decade to record Beethoven's sonatas, I was now playing all 32 of them in a single year, in concerts around the world. … The coronavirus put a stop to all [of this]. But to say that I was disappointed would be to oversimplify matters greatly. Because over the preceding months and even years, I had been quietly falling apart."
This Audible Original, available here, which quickly became one of Audible's top 10 best-sellers, includes musical interludes of selections primarily from Beethoven's piano sonatas, making it a timely listen before viewing the "Front Row Premium" performance.
Thursday, March 4 at 7:30 p.m. CT
Tulsa Opera LIVE with Gene Scheer
Tobias Picker & Gene Scheer.
Through conversations between composer / Tulsa Opera Artistic Director Tobias Picker and luminaries in the opera world, the Tulsa Opera LIVE discussion series explores the past, present, and future of opera, including in the context of COVID-19 and its impact on the performing arts. In this episode, live-streamed via Zoom (and available later on YouTube), Mr. Picker speaks with celebrated American composer, songwriter, and librettist Gene Scheer, whose work has been produced in the world's premiere opera houses. Scheer has composed songs for distinguished singers such as Renée Fleming and Nathan Gunn and his song American Anthem was recently quoted by President Joe Biden during his inaugural address. Tobias Picker and Mr. Scheer have collaborated on two operas: An American Tragedy (Metropolitan Opera – 2005) and Thérèse Raquin (Dallas Opera – 2001). TulsaOpera.com/Live
Friday, March 5 at 8:00 p.m. CT
The Minnesota Orchestra presents "Soaring Strings" concert conducted by Juraj Valčuha with violinist James Ehnes
As part of the Minnesota Orchestra's series of live Friday night concerts presented with Twin Cities PBS (TPT) and Classical MPR, the orchestra's musicians welcome guest conductor Juraj Valčuha back to Orchestra Hall for a concert featuring Prokofiev's Second Violin Concerto, performed by violinist James Ehnes, and Felix Mendelssohn's Italian Symphony. The "Soaring Strings" concert opens with two works for string quartet by Jessie Montgomery: Source Code and Voodoo Dolls. These hour-long concerts feature ensembles of up to 25 orchestra musicians performing programs created for at-home viewing instead of an in-person audience. Learn more about the upcoming program here.
WHERE TO WATCH / LISTEN:
●        TV: Twin Cities PBS's MN Channel (TPT 2.2)
●        Radio: Classical MPR, including via 99.5 FM in the Twin Cities and online at classicalmpr.org;
●        Online: Livestream via minnesotaorchestra.org and social media; performances subsequently will be available for free on-demand access via minnesotaorchestra.org
Friday, March 5
Lara Downes Releases "Phenomenal Women" on Rising Sun Music
Lara Downes talks to WRTI's Susan Lewis about Rising Sun Music.
Lara Downes will release the second installment of her Rising Sun Music recording project celebrating Black composers on March 5. Called "Phenomenal Women," the March release spotlights Margaret Bonds, Nora Holt, Florence Price, and Hazel Scott:
HAZEL SCOTT: Peace of Mind — Lara Downes, piano
A new solo arrangement of Peace of Mind by iconic pianist, singer, and actor Hazel Scott (1920–81) who grew up amidst the Harlem Renaissance and rose to nationwide prominence as a jazz artist, becoming the first Black American to host her own television show.
MARGARET BONDS: What Lips My Lips Have Kissed — Lara Downes, piano & Nicole Cabell, soprano
Ms. Downes joins BBC Singer of the World soprano Nicole Cabell in What Lips my Lips Have Kissed, one of Bonds' settings of poetry by Edna St. Vincent Millay.
NORA HOLT: Nora's Dance — Lara Downes, piano
Nora Holt (1884/5 – 1974) was not only a pioneering singer, composer, and music critic, but also a wealthy socialite and a magnetic force of the Harlem Renaissance (married five times along the way!) and host of the Nora Holt Concert Showcase on Harlem's WLIB radio station.
FLORENCE PRICE: Barcarolle — Lara Downes, piano
Florence Price (1887–1953) was the first Black woman composer to be performed by a major orchestra, and thanks to the efforts of artists including Ms. Downes, who recorded an all-Price solo album last year, the composer's music has enjoyed renewed attention in recent years.
Monday, March 8 at 8:00 p.m. PT
"Evening Music with Lara Downes," a new nightly broadcast, launches on California's Classical KDFC
Beginning Monday, March 8 at 8:00 p.m. PT, Lara Downes will begin her new role as host of "Evening Music with Lara Downes," a nightly program featuring classical music spanning centuries and styles, specially chosen by Ms. Downes. Additionally, as the station's first-ever Resident Artist, she will curate and create new digital content for Classical KDFC and Classical KUSC. kdfc.com
Of her new role Ms. Downes said:
"Northern California is my home, and I grew up listening to KDFC. The station played a tremendous role in shaping who I am today, as a musician and human. I want to pay that forward, and make my contribution in spreading the joy and love of classical music; sharing stories that I hope will intrigue both classical music aficionados and those newly discovering the genre."
Read a Q&A with Ms. Downes on Classical KDFC's blog here.
Thursday, March 11 at 8:15 p.m. ET
Jennifer Koh in conversation with Council of Korean Americans Executive Director Abraham Kim
In a free webinar presentation, violinist Jennifer Koh will speak with Council of Korean Americans Executive Director Abraham Kim, sharing details of her Korean American upbringing in Chicago, her introduction to the violin, and her extensive music career and accomplishments. The discussion will be moderated by pianist and music education advocate Alpin Hong. The event will feature an open Q&A session following the conversation.
The Council of Korean Americans (CKA) is a national nonprofit organization with a mission to advance the national voice and influence of the Korean American community through collaboration and leadership development. WHERE TO REGISTER / WATCH: CouncilKA.org
Friday, March 12 at 8:00 p.m. ET
Michael Tilson Thomas & Fellows from the New World Symphony in Virtual Concert presented by the Library of Congress
Michael Tilson Thomas (MTT) and Fellows from the New World Symphony (NWS) feature in this special digital concert curated for the Library of Congress' Concerts from the Library of Congress virtual series. Filmed at Miami Beach's state-of-the-art New World Center, the performances will be introduced by MTT and NWS alum Kazem Abdullah, now part of the Library of Congress music programming team. The program includes be still and know by 2021 Sphinx Medal for Excellence recipient Carlos Simon alongside works by Charles Wuorinen and Bartók. WHERE TO WATCH: Facebook or YouTube (Information on the concert's availability after the first broadcast will be available here.)
PROGRAM:
CARLOS SIMON: be still and know for Violin, Cello and Piano
WUORINEN: Trio for Horn, Violin and Piano
BARTÓK: Sonata for Two Pianos and Percussion
Friday, March 12 at 7:00 p.m. CT
Jennifer Koh performs Courtney Bryan's Syzygy with the Louisiana Philharmonic
Jennifer Koh will perform Courtney Bryan's Syzygy with the Louisiana Philharmonic and Music Director Carlos Miguel Prieto in a concert filmed at New Orleans' Orpheum Theatre. Ms. Bryan, who is a native of New Orleans, is currently a creative partner of the orchestra. Ms. Koh performed the world premiere of Syzygy with the Chicago Sinfonietta in September 2019. The concert program also includes Aaron Copland's Appalachian Spring and Clarinet Concerto, and Carlos Simon's This Land. Digital concert passes for the virtual performance are $20.
Courtney Bryan's Syzygy was commissioned by Chicago Sinfonietta and ARCO Collaborative's The New American Concerto Project. This three-movement work is inspired by three artists and their work: painter Alma Thomas (1891-1978), painter Frida Kahlo (1907-1954), and designer, architect, and artist Maya Ying Lin (b. 1959). Each movement corresponds to a separate work of art by each of these artists: Thomas' The Eclipse (1970), Kahlo's Tree of Hope, Keep Firm (1946), and Lin's Eclipsed Time (1994). "Syzygy" refers to the nearly straight-line configuration of three celestial bodies (such as the sun, moon, and earth during a solar or lunar eclipse) in a gravitational system. The theme of eclipse is present in all of these works as are contrasts of lightness and darkness. lpomusic.com
Sunday, March 14 at 4:00 p.m. ET
The Gilmore Virtual Rising Stars Series presents Evren Ozel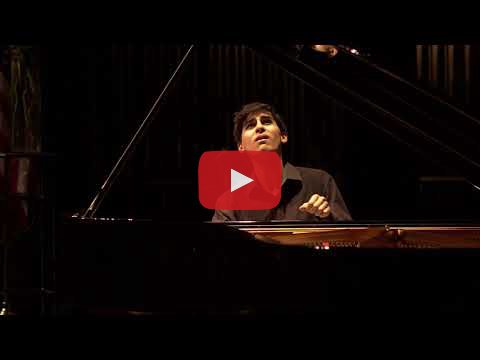 Above: Evren Ozel competing in the 2018 Gina Bachauer International Piano Competition
In this live-stream from the Wellspring Theater, pianist Evren Ozel presents a program of works by Bach, Beethoven, and George Walker, the first African American to be awarded the Pulitzer Prize for music. Mr. Ozel also performs two works by Frédéric Chopin, demonstrating his noted skill with the Romantic composer's works having been awarded several prizes at the 2020 National Chopin Competition. A student at the New England Conservatory, Mr. Ozel has performed with ensembles including the Cleveland and Minnesota Orchestras and has also made multiple appearances on NPR's From the Top. Tickets are pay-what-you-can and the event may be viewed on-demand for 30 days following the initial airing. thegilmore.org
PROGRAM:
BACH: Partita No. 5 in G major, BWV 829
BEETHOVEN: Sonata in E major, Op. 109
WALKER: Piano Sonata No. 5
CHOPIN: Polonaise-fantaisie, Op. 61
CHOPIN: Sonata No. 2 in B-flat minor, Op. 35