THE PUBLIC THEATER ANNOUNCES CASTING FOR
WORLD PREMIERE PLAY CULLUD WATTAH
Written by Erika Dickerson-Despenza
Directed by Candis C. Jones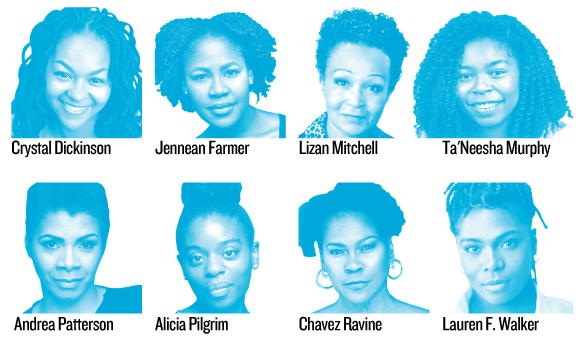 Above is the cast for the world premiere of CULLUD WATTAH (think: "colored water"). Developed by Dickerson-Despenza as the 2019-2020 Tow Playwright-in-Residence at The Public, the play — originally scheduled to premiere in July 2020 — will begin performances in the Martinson Theater with a Free Performance on Nov. 2, 2021. After an official opening on Nov. 17, the new play will run through Sunday, December 5.
Playwright Erika Dickerson-Dispenza, director Candis C. Jones, and Crystal Dickinson
Dickerson-Despenza's new Afro-surrealist play is about three generations of Black women living through the current water crisis in Flint, Michigan. It's been 936 days since Flint has had clean water. Marion, a third-generation General Motors employee, is consumed by layoffs at the engine plant. When her sister, Ainee, seeks justice and restitution for lead poisoning, her plan reveals the toxic entanglements between the city and its most powerful industry, forcing their family to confront the past-present-future cost of survival. As lead seeps into their home and their bodies, corrosive memories and secrets rise among them. Will this family ever be able to filter out the truth?
Andrea Patterson
CULLUD WATTAH blends form and bends time, diving deep into the poisonous choices of the outside world, the contamination within, and how we make the best choices for our families' futures when there are no real, present options.
Crystal Dickinson and director Candis C. Jones
For tickets, call 212.967.7555, visit publictheater.org, or in person at the Taub Box Office at The Public Theater at 425 Lafayette Street.
Alicia Pilgrim
The performance schedule is Tuesday through Friday at 7:30 p.m., and Saturday and Sunday at 2:30 p.m. and 7:30 p.m. (There is no 2:30 p.m. performance on Saturday, November 6 and Sunday, November 7. There is no 7:30 p.m. performance on Wednesday, November 24; Thursday, November 25; and Friday, November 26.) The free performance on November 2 is available via Goldstar lottery.
Composer Justin Hicks, director Candis C. Jones, Crystal Dickinson,
Andrea Patterson, and Lauren F. Walker
ASL performance is Saturday, November 20 at 2:30.. The Open Captioned performance is December 4 at 2:30. The Audio Described performance December 5 at 2:20.
Composer Justin Hicks, director Candis C. Jones, and playwright Erika Dickerson-Despenza
ERIKA DICKERSON-DESPENZA (Playwright) is a Blk, queer feminist poet-playwright and cultural-memory worker from Chicago, Illinois. She has received the Susan Smith Blackburn Prize (2021), the Laurents/Hatcher Foundation Award (2020), the Thom Thomas Award (2020), the Lilly Award (2020), the Barrie and Bernice Stavis Award (2020), the Grist 50 Fixer (2020), and the Princess Grace Playwriting Award (2019). Dickerson-Despenza is the former Tow Playwright-in-Residence at The Public Theater (2019-2020), a U.S. Water Alliance National Arts & Culture Delegate (2019), a New York Stage and Film Fellow-in-Residence (2019), a New Harmony Project Writer-in Residence (2019), a Dramatists Guild Foundation Fellow (2018-2019), and a The Lark Van Lier New Voices Fellow (2018). She is a part of the Ars Nova Play Group (2019-2021) and the Youngblood Collective (EST). Dickerson-Despenza's current commissions include Climate Change Theatre Action, The Public Theater, Studio Theatre, and Williamstown Theatre Festival. Her selected production credits are cullud wattah (Public Theater, 2021; Victory Gardens Theater, 2022), [hieroglyph] (San Francisco Playhouse/Lorraine Hansberry Theatre, 2021). Currently, Dickerson-Despenza is developing a 10-play Katrina Cycle, including [hieroglyph] and shadow/land, focused on the effects of Hurricane Katrina and its state-sanctioned, man-made disaster rippling in and beyond New Orleans.
Andrea Patterson, Lizan Mitchell, Alicia Pilgrim, and Lauren F. Walker
CANDIS C. JONES (Director)'s selected credits include Detroit '67 (DC Signature Theater), Black Solo Plays (Willamstown Theater Festival), shadow/land (The Public Theater), 53% Of  (The Alliance Theater), B*tch (Page 73), Everybody (NYU Tisch), Trapt (Joe's Pub), House of the Negro Insane (Bay Area Playwrights Festival), Pipeline (Detroit Public Theater), Nike (A.C.T. New Strands Festival), The Wolves (American Academy), Brother Rabbit (New Black Fest), Name Calling (Kennedy Center), Morning in America (Primary Stages), TEMBO! (Zanzibar International Film Fest). Upcoming: School Girls; Or, The African Mean Girls Play (Cincinnati Playhouse). Jones received the 2016 Lilly Award, was a member of the WP Theater's 2018-2020 Lab, and is a Drama League Alumni. www.candiscjones.com
Alicia Pilgrim and Andrea Patterson

rehearsal photos by Joan Marcus